"The best investment is in yourself"
Congratulations! You found us. Welcome to the unique Stroopwafel academy. You decided to start your business in the Stroopwafel world; the famous Dutch cookies. We will help you on the way to your succes. At the Stroopwafel academy you get all the knowledge to start with confidence.
The complete training
Stroopwafel Ingredients
Stroop cooking
methods & techniques
presentation packing & storage
marketing & the ultimate customers
and more. Much much more.

Quality in trainings
Our Master training is your best choice.
Our alternatives are:
Our complet video training (soon)
Our complete E-book
All the secrets of the stroopwafel.
Support
After your training we provide full support.
With the master training
the video training and the E-book is included.

Mentoring for 1 year is included.
Learn from our masters how to make the famous Dutch stroopwafels
Do you want to learn how to make the best Dutch stroopwafels, the delicious Dutch Caramel cookies ?
We teach you all the inns and outs of the stroopwafelbusiness.
Whatever country you want to start your business, we have the expertise to help you reach your goals.
The best investment you can make is in yourself.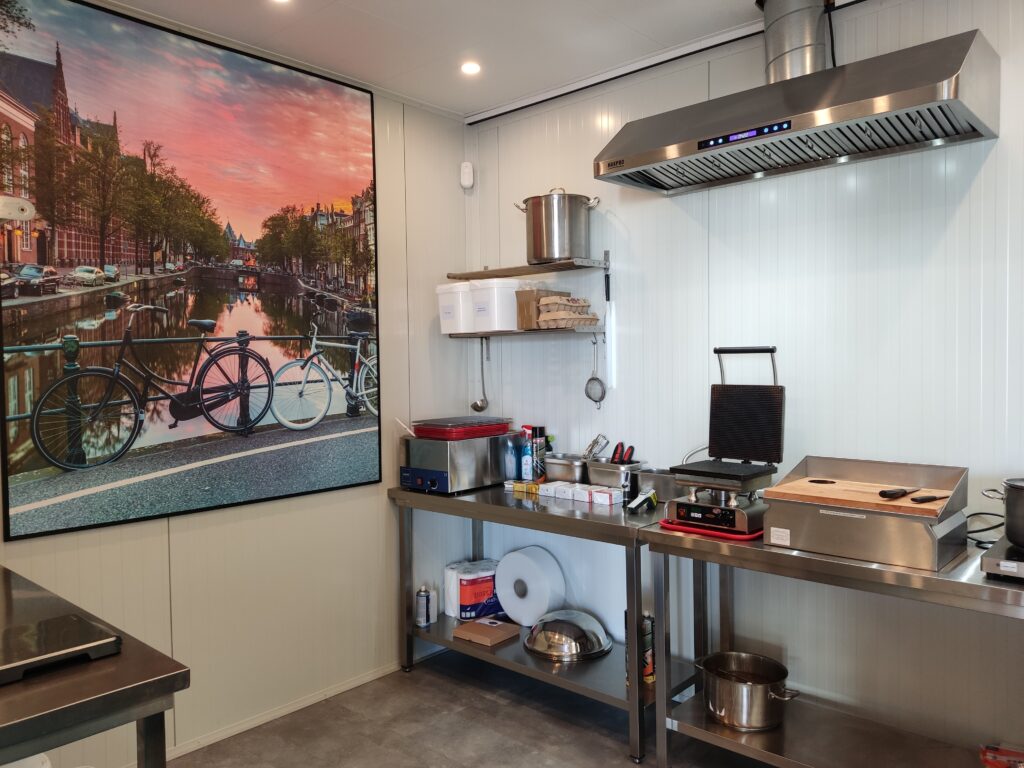 And to become the best, you should learn from the best.
By investing in a professional training at our Academy for stroopwafels,
you will significantly speed up the process to success of your business.

We make the difference in your road to success.
The Master stroopwafel training
I like to hear about your plans.
Where do you want to start your business
How do you want to start your business
in a foodtruck, a kiosk or maybe in a waffleshop or even a shop in shop.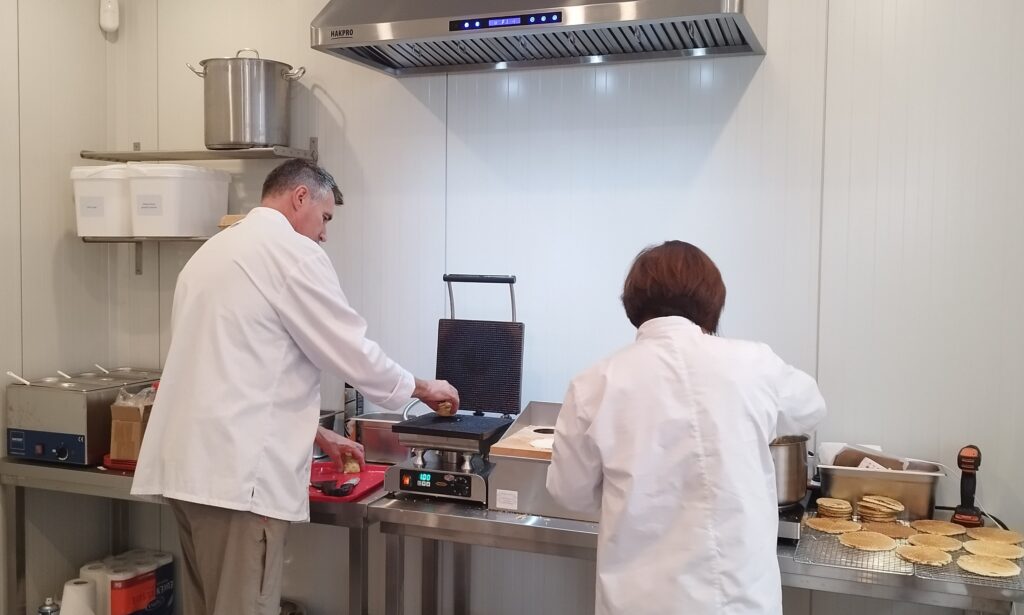 Maybe you want to start your own industrial stroopwafelfactory.
E-BOOK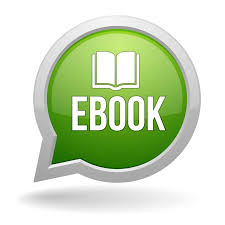 When it is not possible for you to attend the workshop at our Stroopwafelacademy it is possible to purchase our E-book. Check our shop to buy online.
Our E-book contents all recipes, the manual how to make perfect stroopwafels, the dough and the stroop step by step in detail, just like our live Stroopwafeltraining.

---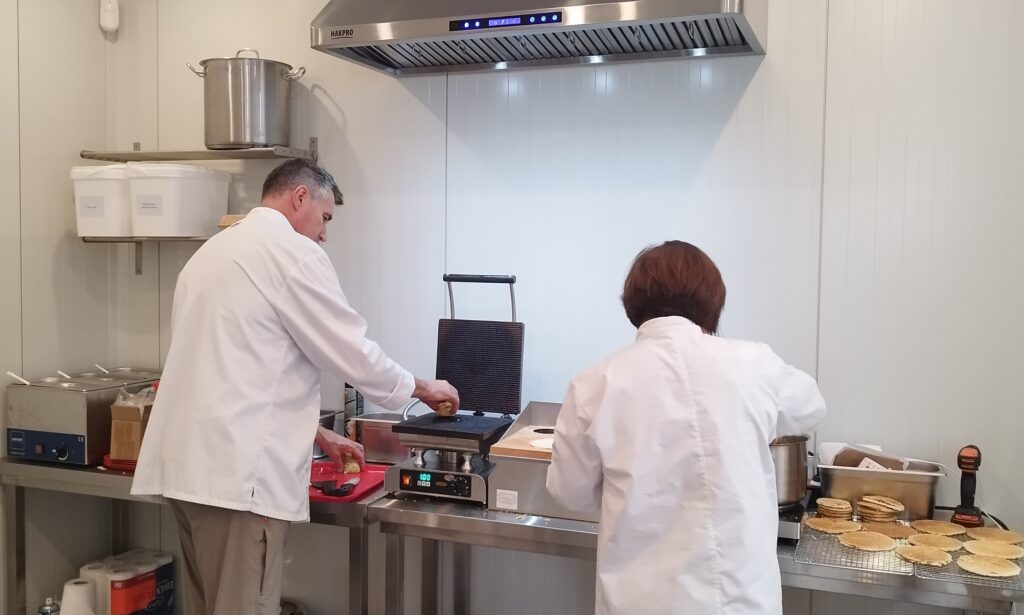 ---
Please contact us: info@vandemeester.com
Stroopwafelacademy is 100% owned by vandeMeester.com
Equipment for stroopwafels
Take a look at our European WEBSHOP
For stroopwafel machines
for stroopwafel doughmix and stroop.
Yes, we also export outside Europe, ask for a quote.
Yes we have instantstroop.
Only add water boil it and… Magic…. Stroop.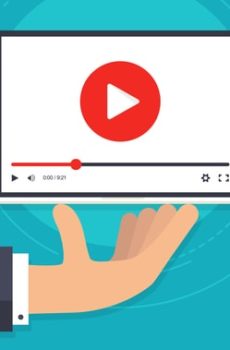 The complete Stroopwafel training is available on video.
Log in from your home, and watch this training whenever and howmany times you want.
Bonus: Our E – book is also included.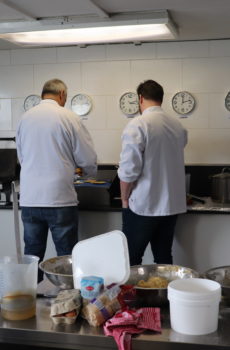 This Masterclass Stroopwafeltraining is individual customized for every student so the program and ending time is flexible between 17.00 am and  21.00 pm.
The Masterclass Stroopwafeltraining will give a boost to your business and career
The investment is € 1495,-
An additional student is €  300,-
The maximum is 2 students per training.
This training is inclusive all materials, recipes and certificate, coffee,tea and lunch.
* …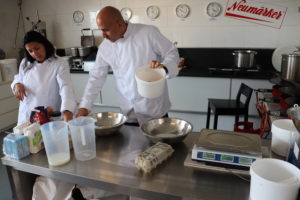 Our students from Honduras
So glad we did this course
Dirk really overdelivered.
We can`t wait to start our business now.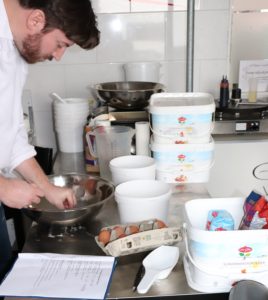 Trevor from the USA
The training at the academy was such a great step to take.
I am very happy with all the knowledge i have learned, now i am confidend to start my business.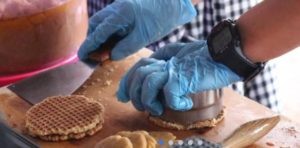 Yugin from Singapore
Verse Stroopwafels
"Thank you for the training.
This will make the difference in my life.
Contact us
Find us at:
Academy for
Stroopwafels
Pancakes
Waffles
Poffertjes
Street: Handelskade 1
Zipcode: 8305 AX
Place: Emmeloord 
The Netherlands
Give us a ring
Dirk Okhuijsen
+31 527 769 087
Mon - Fri, 9:00-17:00
Or Whatsapp: +31 6218 42 744
Email: dirkokhuijsen@gmail.com