"The best investment is in yourself"
Congratulations! You found us. Welcome to the unique Stroopwafel academy. You decided to start your business in the Stroopwafel world; the famous Dutch cookies. We will help you on the way to your succes. At the Stroopwafel academy you get all the knowledge to start with confidence.
The complete training
Stroopwafel Ingredients
Stroop cooking
methods & techniques
presentation packing & storage
marketing & the ultimate customers
and more. Much much more.

Quality in trainings
Our Master training is your best choice.
Our alternatives are:
Our complet video training (soon)
Our complete E-book
All the secrets of the stroopwafel.
Support
After your training we provide full support.
With the master training
the video training and the E-book is included.

Mentoring is included.
Learn from our masters how to make the famous Dutch stroopwafels
Do you want to learn how to make the best Dutch stroopwafels, the delicious Dutch Caramel cookies ?
We teach you all the inns and outs of the stroopwafelbusiness.
Whatever country you want to start your business, we have the expertise to help you reach your goals.
The best investment you can make is in yourself.
And to become the best, you should learn from the best.
By investing in a professional training at our Academy for stroopwafels,
you will significantly speed up the process to success of your business.
Dirk Okhuijsen is our Stroopwafel consultant and owner of the Academy.
Dirk 'The Meester' is insightful, knowledgeable and active during our MasterClass training. We can tell that he wanted to know us before we commenced and every step that was taught is purposeful. Many thanks to Dirk and the VDM team for the great hospitality!

Cheers,
Ben
We make the difference in your road to success.
The Master stroopwafel training
I like to hear about your plans.
Where do you want to start your business
How do you want to start your business:
in a foodtruck, a kiosk or maybe in a waffleshop or even a shop in shop.
How much would it be worth to you if you could start your business from day one with the best product possible that will enchant your customers and make your customers your fanbase?
How nice is it if you already know everything that could go wrong?
I will teach you how you can anticipate problems and mistakes in advance.
Mistakes cost money. How comfortable is it to avoid these?

With our training, you will set up your business without any doubts.
The knowledge learned at our academy will make you more profit, starting at day one.
In one year your extra profit could be as much as 45.000,- or more.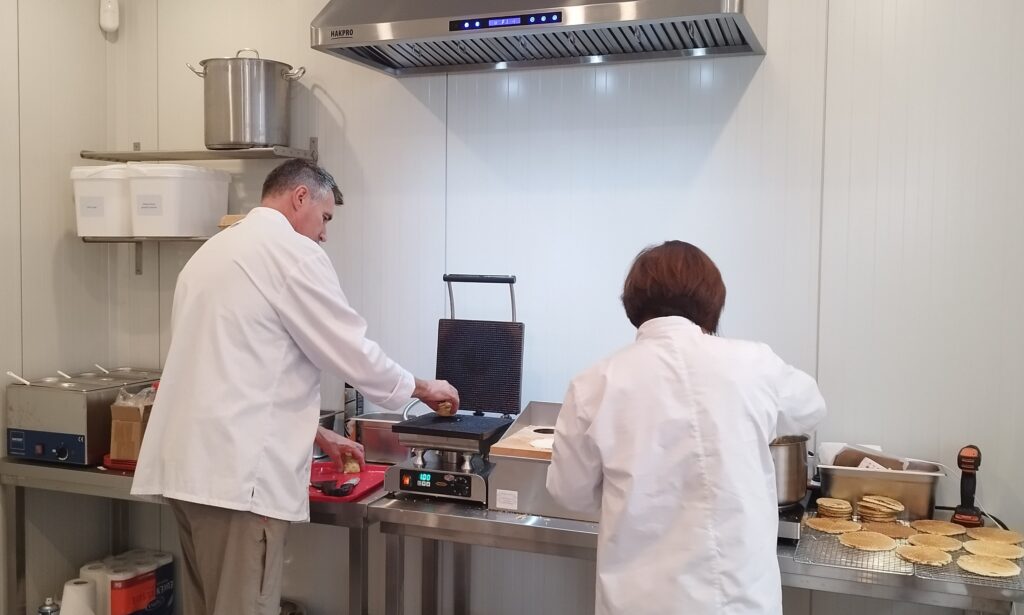 Maybe you want to start your own industrial stroopwafelfactory?
We have several trainings designed for your needs and wishes.
E-BOOK & video training online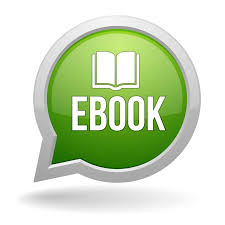 When it is not possible for you to attend the Masterclass at our Stroopwafelacademy you can purchase our video training and E-book. Check our shop to buy online.
Our E-book and video modules content all recipes, the manual how to make perfect stroopwafels, the dough and the stroop step by step in detail, just like our live Stroopwafeltraining.

---
---
Please contact us: info@vandemeester.com
Stroopwafelacademy is 100% owned by vandeMeester.com
Equipment for stroopwafels
Take a look at our European WEBSHOP for stroopwafel equipment,
for stroopwafel doughmix and stroop.
Yes, we also export outside Europe, just ask for a quote by email.
Questions ???
In order to hit x amount of sales a day, how many machines should, how many machines
should be a reasonable amount?
Suggested profit margin?
How extensive should the menu be, and how should it expand according to progression?
Ideal team size per store according to role?
What other dutch dessert would you cross sell to go with maybe dutch coffee?
Typically how long does technical support take to fix a faulty machine?
How should we tweak the recipe for … country ? Can it be done off the pre mix?
What do you think of the company name: . . . . . . .
Stroopwafel in Dutch culture and/or observations?
Rudi's, Melly's, Van Wonderen and Lanskroon? Which one do you like?
Typical decoration for a traditional Dutch dessert store?
Packaging designs for food-delivery?
SOP for making and storing dough
Dough optimal shelf-life (fridged/freezed) and also temperature of dough during press.
Reheating instructions.
Instant stroop upon cooking and heating, how many days shelf life?
Shelf-life for cooked stroopwafel? 15/30/45/60 days?
Do you have any recipes for stroop-latte drinks? How many variations?
What do you think is the best SW in Amsterdam?
What can stroop be used for other than Stroopwafel?
What can we do with stroop crumbs?
Popular Dutch coffee brands or cafe?
Stroopwafel Dubai, are you their supplier/consultant?
How does your franchise program work?
What about coffee-caramel/honey stroop variations? Recipe?
Any question you can have, we will answer fully during the training.

---
Training overview:

1 – The Stroopwafel workshop.
Lets make stroopwafels as a professional.
Learn the basics of stroopwafel production.
Techniques – equipment – presentation.
The workshop takes place at our company in Marknesse The Netherlands.
Duration 2 hours.
Yes you can take your freshley baked stroopwafels at home.
NO recipes included, we work with our ready made dough and ready made stroop.
This workshop is about equipment, production and presentation.

2 – DUTCH only – Stroopwafel bakker praktijk training
Hoe begin je een stroopwafelkraam of stroopwafel foodtruck.
De training wordt gegeven in Marknesse Flevoland, maar bij groepslessen kan dit ook op locatie.
De training duurt 5 uur.
Inclusief:
Een uniek kijkje in de Nederlandse stroopwafelmarkt en internationaal.
Wat werkt, wat niet, en waarom.
Werken met deegjes, werken met stroop.
Productie, opslag temperaturen, presentatie
Brainstormen over uw bedrijfsplan en toekomst.


3 – International stroopwafelmaker training
How to start your Stroopwafel business or stoopwafel shop.
The training takes place at our company in Marknesse The Netherlands.
The duration of the training is 6 hours.
Inclusive:
Dough recipe (the best in taste)
Stroop recipe
Storage and packaging
Production and temperatures
Presentation pricing and sales
4 – Online Stroopwafel video training
This is the Masterclass stroopwafel training (point 5)
recorded, so you can watch and learn from home at your own pase.

5 – Masterclass Stroopwafel training
The best and complete Stroopwafel training you need start a succesfull Stroopwafel business.
Wherever in the world, this is the best buy.
The training takes place in our company in Marknesse The Netherlands.
The duration of the training is minimum 8 to 11 hours in one day.
Inclusive:
Recipes for best taste, glutenfree and the industrial recipe for long shelflife stroopwafels.
Industrial stroop recipe
Storage and packaging
Production
Presentation dipping and toppings – flavours
Videotraining + Ebook
Mentoring for 3 years
Marketing basics
Who is your ultimate client
Upselling
Branding
And more.


6 – Stroopwafel industrial.
How to start a stroopwafel factory / production.
Mentoring
When you decide to partake in our Masterclass Stroopwafel traning, it will be a full project of max 3 years.
Guidance / mentoring by email and Whatsapp is included for this entire period.
Future
From July 2023 we will have a complete new Stroopwafel training (6)
for the stroopwafel entrepreneur interested in setting up full scale industrial production
as a stroopwafel factory.
This is a three day training, the location of the training is in our company in the Netherlands.
In this traject we teach you everything about the Dutch stroopwafel, how to make industrial style stroop,
how to make dough at an industrial scale, how to produce with a semi automatic stroopwafelcarrousel,
mixers / kneaders, and everything that is necessary to set up your company / factory.
Packing, handling, shelflife, everything is included in the training.

---
Follow us at instagram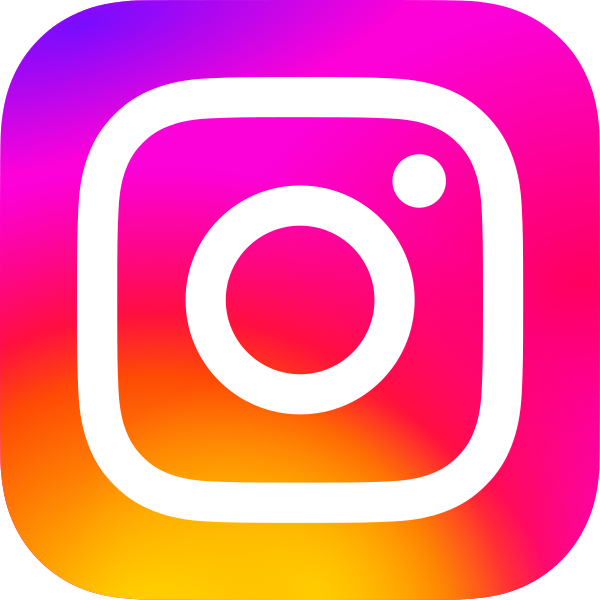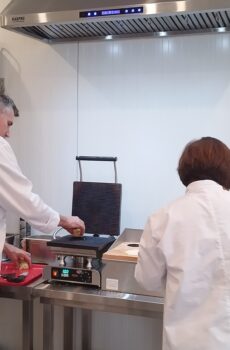 This Masterclass Stroopwafeltraining is individual customized for every student so the program and ending time is flexible.
The Masterclass Stroopwafeltraining will give a boost to your business and career
Your investment is a fraction of the cost when you have to find out everything yourself.
The maximum is 2 students per training.
This training is inclusive all materials, recipes and certificate, coffee,tea and lunch.
* …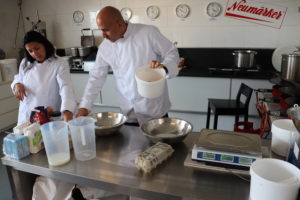 Our students from Honduras
So glad we did this course
Dirk really overdelivered.
We can`t wait to start our business now.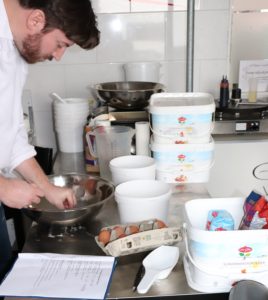 Trevor from the USA
The training at the academy was such a great step to take.
I am very happy with all the knowledge i have learned, now i am confidend to start my business.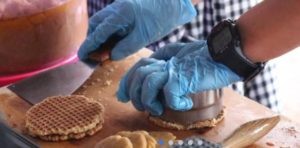 Yugin from Singapore
Verse Stroopwafels
"Thank you for the training.
This will make the difference in my life.
Contact us
Find us at:
Academy for
Stroopwafels
Pancakes
Waffles
Poffertjes
Street: Handelskade 1
Zipcode: 8305 AX
Place: Emmeloord 
The Netherlands
Give us a ring
Dirk Okhuijsen
+31 527 769 087
Mon - Fri, 9:00-17:00
Or Whatsapp: +31 6218 42 744
Email: dirkokhuijsen@gmail.com