---
MASTERCLASS Professional Training : Stroopwafels
A 1 day intensive entrepreneur training. This training takes a full day and it ends when you are fully informed and satisfied. 
Please come prepared and rested.


09.30 am: Introduction
We welcome you at our academy and we have a meeting with coffee, tea, a stroopwafel and an introduction of ourselves.
We want to know your plans: where and how are you going to start your business so I can recognize and decide how to help you best in the best possible way.
For example: a foodtruck in Spain is very different than a kiosk in Oman.
This Masterclass Stroopwafeltraining is individual customized for every student, but the basic information is very important for each student.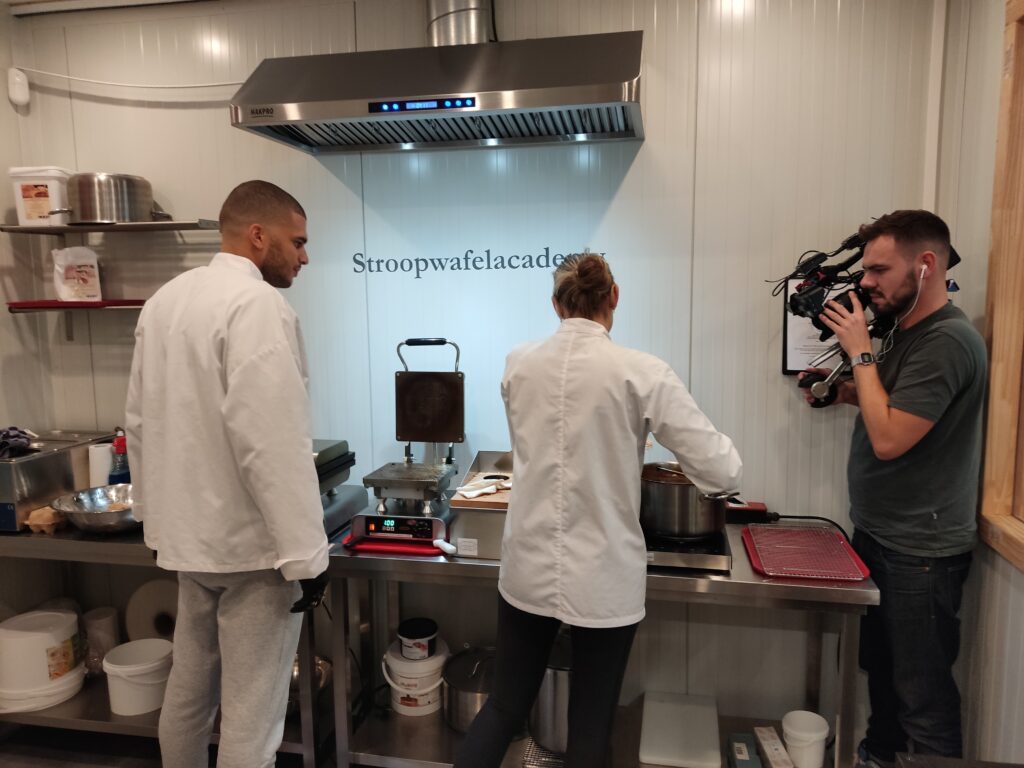 First, we teach you all the secrets of the perfect dough recipe,
and how to give it your own signature.
We will make 2 or 3 varieties of the dough.
Stroop – We teach you how to make your own stroop
and how to influence the taste, viscosity colour, etc.
We discuss all the techniques of baking and cutting the cookies
What is your ultimate stroopwafel recipe.
What is the best way of storage, packaging, transport. How can you start your private label.
How to sell more, who is your ideal customer and where to find and approach them.
We will look at your business plan, marketingplan, the use of social media, the financing and pricing.
You establish your mindset, your goals and the opportunities. For example: will you be working solo or with employees?
Theoretics – History, equipment, health and ingredients. A simple explanation of what to use and why, so you can make the right decisions in the country you will be starting.
Equipment: we look at all the possible machines to make the right decision which to buy.

Action: Roll up your sleeves, make your first batter and take the first steps to the making of Dutch Stroopwafels.
Lets taste, smell and look at the structure of the cookies of the stroopwafels.
Lunch: if you have preferences, like vegan or halal, please let us know in front.
Techniques and temperatures of baking the cookies and preparing the stroop. We practice, practice and practice more.
Presentation and toppings: We will introduce you to every possible way to present the stroopwafels to your customers.


You have earned the total costs of your training with this formula only after 20 days of operation. So, still have any doubts?
The end of the Masterclass Professional Training Stroopwafels is when you decide that you are satisfied and completely informed and ready but ultimately at 20.00 pm.
All materials and certificate are included.
E-book is included. (Regular price € 395,-)
E-BOOK: The secrets of Stroopwafels
The complete manual as an E-book. The best recipe, the temperatures, how to work, presentation, and more, much much more.
Additional mentoring by mail and whatsapp during 3 year is included
---
MASTERCLASS Stroopwafels entrepreneur
We offer the Masterclass Stroopwafeltraining for starters, but also for experienced stroopwafel companies.

---
Please contact us: info@vandemeester.com